EMILIO at the European Week of Active and Healthy Ageing 18-20 October 2022, Gdansk Poland.
Co-design in Italy with target groups
On 17 June, a co-design took place with people of age around 75 that could be identified as future clients of the Emilio solution. The purpose of the co-design was to understand needs, concerns and expectations of healthy people living independently and reflect on the match between care needs and services provided by an Assisted Living Facility.
ANCONA CONSORTIUM MEETING

The first face-to-face meeting took place in July 2022, six months after the start of the Emilio Project. It was a very productive two-days meeting, with intensive collaboration between the partners and high-level workshops. The topics of assisted Living Home – Voice Control – Monitoring of the Activities of Daily Living were discussed.
Thanks to the INRCA – Istituto di Ricovero e Cura a Carattere Scientifico for the hospitality and organisation.
12-13 July 2022
TECH WORKSHOP

In March 2022 the technical partners of the Consortium met in Rome to discuss about the architecture of the digital platform. Several possibilities were assessed, among others also the Bosch IoT Suite and the Gatekeeper platform.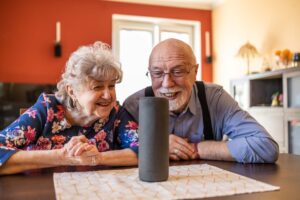 Kick-off meeting
The Kick-off meeting of the EMILIO Project was held online on the 17.-18. February. For the international consortium team from four countries, it was not possible to meet in person due to the pandemic. In the online kick-off we discussed about the project planning and prepared the activities so that all the work packages could start smoothly.